Shopping in the world of Louis Damenmoden – for almost 50 years the top address in Schwäbisch Gmünd and Aalen for sophisticated ladies' fashion, created by first class designers such as HERNO, PESERICO, FABIANA FILIPPI, CLOSED, DOROTHEE SCHUMACHER, LUISA CERANO, RIANI, and numerous others.
Stroll leisurely through the shops, get inspired and fascinated by our extensive collection of premium clothes, explore our top-brand shoes such as HOMERS, PEDRO GARCIA, PEDRO MIRALLES, PHILLIPE MODEL, to name only a few, and dive into our range of fine accessories, created e.g. by BOGNER and ETIENNE AIGNER.
Tamara Hauber has been well known in Schwäbisch Gmünd for many years. She has completely refurbished and modernized Louis Damenmoden, excellently established as the leading store for almost half a century. The new flagship store is situated in the middle of the liveliest shopping district of the city, directly between market place and CityCenter. Tamara created a real sensation in terms of fashion and shopping experience, like she managed to do in her shop in Aalen before.
The fabulous dressmaker's glass studio​
A singular experience is offered by our dressmaker's glass studio. Integrated in the shop, ceiling high glass panels allow the customers to observe the seamstresses at work. There is ample opportunity to relax. Our lounge terrace, shielded by  a generous awning, and our Italian coffee bar complete the luxurious ambience adequate for the high quality range of goods and services on offer.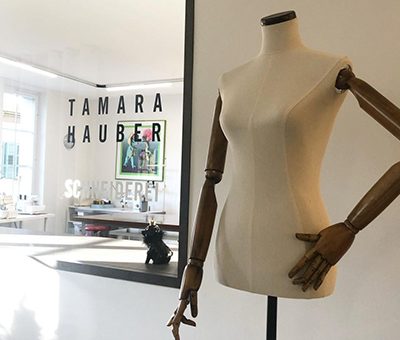 LOUIS DAMENMODEN
Postgasse 5
73525 Schwäbisch Gmünd
Germany
Phone 07171 62733
Mobile 0177 2904121
info@loudam.de
Opening Hours
Monday to Friday
9 am to 6 pm
Saturday
9.30 am to 4 pm
LOUIS DAMENMODEN
Löwenstraße 1
73430 Aalen
Germany
Phone 07361 68900
info@loudam.de
Opening Hours
Monday to Friday
9.30 am to 6 pm
Saturday
9.30 am to 2.30 pm